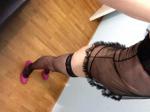 I live in Prague and I'm looking for a CD or Tranny who loves crossdressing into nice girly things, bras, panties, stocking...
I love anal playing, ass stretching, eating, prolapsing - anything anal! I want to be able to do anal fisting too and become a total anal whore.
And, of course, I can do the same to you if you like that.
Any CD - TV interested in doing these things together?