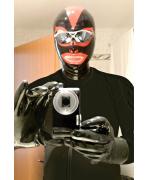 Mám rád latex a to nejlépe od hlavy až k patě a to na sobě i na partnerce. Také se mi líbí lehčí BDSM spíše ve formě nějaké hry - breathplay a pod, ale vždy jen ve spojení s latexem. Při těchto hrátkách dokážu být jak sub tak dom a popravdě sám nevím co se mi zamlouvá více - cítím to tak, že obojí má něco do sebe ... .
Rozhodně jsem hetero ... tak že prosím TV a borce ať mě za účelem sexu nekontaktují - Díky.
A pak mám vlastně ještě jednu úchylku - čistotnost, proto se musím přiznat, že nějaké věci z BDSM tedy rozhodně nemusím ( jako třeba Piss a pod. )
Tak toliko o mé latexové maličkosti. Všechny místní zdravím ...